In Memoriam – Bernarditas de Castro-Mueller
South Centre extends its condolences to the family of Ms. Bernarditas de Castro-Mueller, former Special Adviser for Climate Change of the South Centre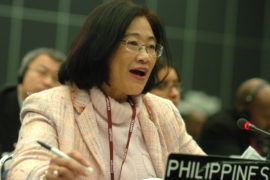 After a prolonged illness, retired Filipina diplomat and veteran climate change negotiator Ms. Bernarditas de Castro-Mueller passed away peacefully in Geneva on 14 December 2018. Ms. Mueller was a Special Adviser to the South Centre as well as an environmental adviser to the Department of Foreign Affairs of the Philippines. She had represented the Philippines in the United Nations Framework Convention on Climate Change (UNFCCC) since its inception in 1994 and played important roles in representing and negotiating for her country and for developing countries in the negotiations for the Kyoto Protocol in 1997.
Ms. Mueller was the Co-Chair representing developing countries of the UNFCCC Standing Committee on Finance; she also served for a number of years as the coordinator and lead negotiator of the Group of 77 and China (the largest negotiating group for developing countries in the UNFCCC) on climate change finance-related issues in the UNFCCC climate change negotiations, including during the negotiations in Paris in 2015 that resulted in the UNFCCC's Paris Agreement.
Ms. Mueller was an amazing woman in her fierce commitment to climate justice and ensuring that developing countries had the tools they require to address the impacts of climate change and to ensure sustainable development and poverty eradication.  She has trained numerous developing countries' negotiators on climate change issues.
The South Centre is proud to have been a part of Ms. Mueller's life and to have benefited from her work and her experience in furthering the Centre's objective of supporting developing countries in becoming more effective in their engagement in multilateral climate change issues.
The Centre extends its deepest condolences to the family and friends of Ms. Mueller in this time of great loss and grief.