Access to Medicines and Vaccines: Implementing Flexibilities Under Intellectual Property Law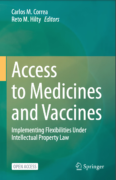 Description:
This book is an outcome of a partnership between the Max Planck Institute (MPI) for Innovation and Competition and the South Centre, which jointly organized a Global Forum on Intellectual Property, Access to Medicine and Innovation in Munich on 9– 10 December 2019.
This book examines topics of particular relevance for shaping intellectual property regimes that take into account public health concerns. It provides not only deep analyses but options for the interpretation of existing regulations or the adoption of new legislation that, being consistent with the TRIPS Agreement, can allow the judiciary and policy makers to take such concerns into account. In different chapters, the book addresses various dimensions of the flexibilities allowed under the TRIPS Agreement. Although there is a significant literature and statements on the subject, such as the 'Declaration on Patent Protection. Regulatory Sovereignty under TRIPS' elaborated under the auspices of the MPI, the book contains new reflections and examines recent developments in case law and legislation.
The covered issues include how the TRIPS Agreement can be interpreted to implement its flexibilities, the use of competition law to promote access to medicines, the role of cooperation in the examination of patent applications, patentability requirements, the impact of TRIPS plus provisions (such as the linkage between patents and drug regulatory approvals), the patentability in the area of CRISPR genome editing technologies, as well as an analysis of the scope of exceptions and limitations to exclusive rights provided for by the Agreement, such as the exhaustion of rights and parallel imports, compulsory licenses, the 'Bolar exemption', and procedural mechanisms like pre-grant oppositions. The implications of the protection of test data are also examined.
While celebrating the opportunity of working together in organizing the Global Forum, we hope that this book will assist policy makers and judges and provide new inputs for academic research. While, as mentioned, there is a differentiated impact of intellectual property rights depending on the level of development of the country where it applies, the reconciliation of such rights with public health interests, particularly in relation to access to medicines, is a matter of concern for all countries.
Editors: Carlos M. Correa and Reto M. Hilty