Workshop on L&E work programme & WIPO broadcasting treaty, 27 April 2022
 South Centre/KEI/PIJIP Workshop on the L&E work programme and the WIPO broadcasting treaty
27 April 2022, 14:00-16:00 CEST
On Wednesday, 27 April 2022 from 14:00 CEST to 16:00 CEST, the South Centre, Knowledge Ecology International (KEI), and the Washington College of Law's Program on Information Justice and Intellectual Property (PIJIP) will convene a workshop to prepare for the 42nd session of WIPO's Standing Committee on Copyright and Related Rights. The workshop will address two themes: 1) Proposal by the African Group for a work programme on exceptions and limitations and 2) Appraising proposals for a WIPO broadcasting treaty in 2022 and its implications on access to culture and knowledge.
To see the full agenda for the event, click here.
To register for the event, click here.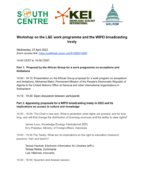 This article was tagged: Access to Knowledge, African Group, Broadcasting Treaty, Copyright, Exceptions, Intellectual Property, Limitations, Limitations and Exceptions (L&E) Work Programme, World Intellectual Property Organization (WIPO)