SC & PCNS Conference, 13 October 2021
Conference: International Taxation from Global South Perspectives 
In Partnership with The Policy Center for the New South
Wednesday 13 October 2021 15h00 – 16h30 GMT+1 Live-Stream (YouTube, Facebook, Live Tweet)
The key questions that will be discussed in this event will be:
What reforms are needed to international standards that can strengthen the capacity of governments to raise revenue from MNEs without discouraging economic activity?
What is the cost of tax havens for developing countries and what role can international cooperation play in dealing with this issue?
What might the future of tax reform look like in the post-COVID-19 era, given the growing digitalization of the economy?
The event will be live-streamed here : https://www.youtube.com/watch?v=OyNH7gOPZ98
It will be live as well on PCNS' Facebook and via Live Tweets.
Brief, Agenda, Biographies and About
Recording now available: https://youtube.com/watch?v=OyNH7gOPZ98…
En français: https://youtube.com/watch?v=DBBhrRApgVg…
En español: https://youtube.com/watch?v=33QssssuhG4…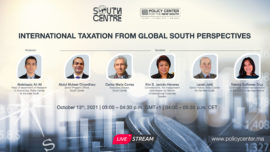 This article was tagged: Corporate Tax, COVID-19, Digital Economy, Digital Tax, Digital Taxation, International Tax Cooperation, International Taxation, Multinational Enterprises (MNEs), Pandemic, Tax, Tax Havens, Tax Reform