Coalition for Dialogue on Africa – South Centre Dialogue Series on IFFs, 1 June 2022
Coalition for Dialogue on Africa – South Centre Dialogue Series on Illicit Financial Flows
Comparing Tax Revenues to Be Raised by Developing Countries from the OECD and UN Solutions for Taxing the Digital Economy
Wednesday 1 June 2022 1500 – 1700 CET / SAST Virtual Meeting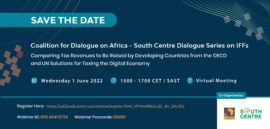 This dialogue is a follow up to and responds to the main call of the 1st African Fiscal Policy Forum (AFPF I), namely the need to provide the Member States of the African Union (AU) and the South Centre with an assessment of the revenue gains from the OECD and UN digital tax solutions.
It is expected that by July 2022, the Multilateral Convention (MLC) that will give effect to the OECD's solution, Pillar One, will be presented to developing countries for signature. If they agree, they will have to forego all other unilateral measures and restrict their taxing rights to the Pillar One framework. Thus, it is vital that such an important and historic decision be fully informed, especially regarding the alternatives available. The data on revenue impacts is an integral part of such a decision-making process, as policymakers will be able to see which solution will give their countries more revenues.
Further, the Pillar One agreement will have to be ratified in national legislatures. Hence, the support of the larger polity is required. The data showing the impact of the revenue of the countries will enable decisions makers to determine whether such a decision is genuinely in the national interest, and whether alternatives are more suitable instead.
Participants will include high-level officials from ministries of finance, tax administrations, financial intelligence authorities, African central banks and other relevant organisations working on IFFs; experts; African regional organizations including the Regional Economic Communities (RECs); representatives of the private sector, and civil society actors.
Register Here: https://us02web.zoom.us/webinar/register/WN_n17Wotf6SGuZL_8Y_Dhc9Q
Webinar ID: 856 4641 8734
Webinar Passcode: 659191
Presentation: Comparing Tax Revenues to Be Raised by Developing Countries from the OECD and UN Solutions for Taxing the Digital Economy by Abdul Muheet Chowdhary
Coalition pour le dialogue en Afrique – Centre Sud sur les flux financiers illicites
Comparer les recettes fiscales à mobiliser par les pays en développement à partir des Solutions de l'OCDE et de l'ONU en matière de fiscalité de l'économie numérique.
Mercredi 1er juin 2022 15h00-17h00 CET / SAST Réunion virtuelle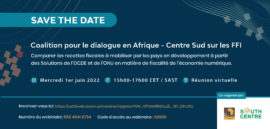 Le présent dialogue s'inscrit dans le prolongement de l'appel primordial du premier Forum sur la politique fiscale en Afrique (AFPF I) et en constitue la réponse, notamment la nécessité de fournir aux États membres de l'Union africaine (UA) et à Centre Sud une évaluation des gains de recettes découlant des solutions fiscales numériques de l'OCDE et de l'ONU.
La Convention multilatérale (CML) qui donnera effet à la solution de l'OCDE (Pilier I) devrait être présentée en juillet 2022 aux pays en développement pour signature. S'ils y adhèrent, ils devront renoncer à toutes les autres mesures unilatérales et limiter leurs droits d'imposition au cadre du Pilier I. Ainsi, il est vital qu'une décision aussi importante et emblématique soit pleinement éclairée, en particulier pour ce qui est des options existantes. Les informations relatives à l'incidence des recettes sont une partie intégrante d'un tel processus de prise de décisions, car grâce à ces celles-ci les décideurs peuvent déterminer la solution qui permet à leurs pays d'engranger plus de recettes.
Par ailleurs, l'accord relatif au Pilier I devra être ratifié par les législateurs nationaux. C'est pourquoi le soutien de l'État au sens plus large est nécessaire. Les décisions qui montrent l'incidence des recettes d'un pays permettront aux décideurs de déterminer si une telle décision est réellement dans l'intérêt national et si les options sont plutôt plus adoptées.
Les participants seront constitués de fonctionnaires de haut niveau des ministères des finances, des administrations fiscales, des autorités du renseignement financier, des banques centrales africaines et autres organisations compétentes opérant dans le cadre des FFI; des experts; des organisations régionales africaines, notamment les Communautés économiques régionales (CER); des représentants du secteur privé et des acteurs de la société civile.
Inscrivez-vous ici: https://us02web.zoom.us/webinar/register/WN_n17Wotf6SGuZL_8Y_Dhc9Q
Numéro du webinaire: 856 4641 8734
Code d'accès au webinaire: 659191
Serie de diálogos entre la CoDA y el South Centre sobre los flujos financieros ilícitos
Comparación del incremento en los ingresos tributarios de los países en desarrollo a partir de las soluciones de la OCDE y de la ONU para gravar la economía digital
1 de junio de 2022 de 15:00 a 17:00 hora CET/SAST Reunión virtual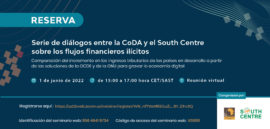 Este diálogo es un seguimiento del —y responde al— principal motivo del 1.er Foro Africano de Política Fiscal (AFPF I, por sus siglas en inglés), a saber, la necesidad de proporcionar a los Estados miembros de la Unión Africana (UA) y del South Centre una valoración de los ingresos obtenidos a partir de las soluciones de la OCDE y la ONU en relación con la fiscalidad de la economía digital.

Se espera que el Convenio Multilateral que dará efecto al Pilar 1 de la solución de la OCDE se presente ante los países en desarrollo en julio de 2022 para que lo firmen. De aceptarlo, tendrán que renunciar a todas las demás medidas unilaterales y restringir su potestad tributaria al marco del Pilar 1. Por consiguiente, es vital que una decisión tan histórica e importante se tome con pleno conocimiento de causa, sobre todo en lo que respecta a las alternativas disponibles. La información sobre los efectos en los ingresos es una parte integral en un proceso de adopción de decisiones de ese tipo, ya que las instancias que formulan las políticas podrán determinar la solución que ofrecerá a sus países más ingresos.

Asimismo, el acuerdo del Pilar 1 tendrá que ser ratificado en las asambleas legislativas nacionales. De ahí que se necesite el apoyo político de amplia base. Los datos que indiquen los impactos en los ingresos de los países permitirán a los responsables de la toma de decisiones determinar si esa decisión redunda verdaderamente en el interés nacional o, si en vez de eso, las alternativas son más adecuadas.

Entre las personas participantes figurarán funcionarios de alto nivel de ministerios de finanzas, administraciones tributarias, autoridades de inteligencia financiera, bancos centrales africanos y otras organizaciones relevantes que trabajan en el tema de los flujos financieros ilícitos; expertos; organizaciones regionales africanas, entre otras, las comunidades económicas regionales; representantes del sector privado; y actores de la sociedad civil.

Registrarse aquí: https://us02web.zoom.us/webinar/register/WN_n17Wotf6SGuZL_8Y_Dhc9Q

Identificación del seminario web: 856 4641 8734

Código de acceso del seminario web: 659191


This article was tagged: Africa, African Union (AU), Coalition for Dialogue on Africa (CODA), Digital Economy, Digital Tax, Digital Taxation, First African Fiscal Policy Forum, Global Tax, Global Taxation, Illicit Financial Flows (IFFs), International Tax, International Tax Cooperation, International Taxation, Organisation for Economic Co-operation and Development (OECD), Pillar One, Tax, Tax Cooperation, Tax Law, Tax Policy, Tax Reform, Taxation, Taxation in Developing Countries, The Multilateral Convention (MLC), United Nations (UN)